Become a Virtual Author's Assistant

Be a part of the only comprehensive Professional Virtual Author's Assistant Training Program anywhere in the world! We fully prepare you to provide the critical services authors ask for most and give you what you need to grow your own virtual business, attract author clients and build your web presence. Get started today!
Become a Virtual Speaker's Assistant

Add to your practice earning great money while helping speakers prepare speeches, organizing their communications with event planners and helping them market and sell their passions for their topics with emails, blogs, product launches and more – all while learning the ins and outs of the speaking industry. Get started today!
Find an Assistant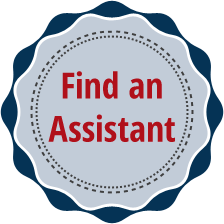 The directory is free for authors and aspiring authors to use to find a professional who fits their needs. We can also recommend someone to meet your needs if you email us.